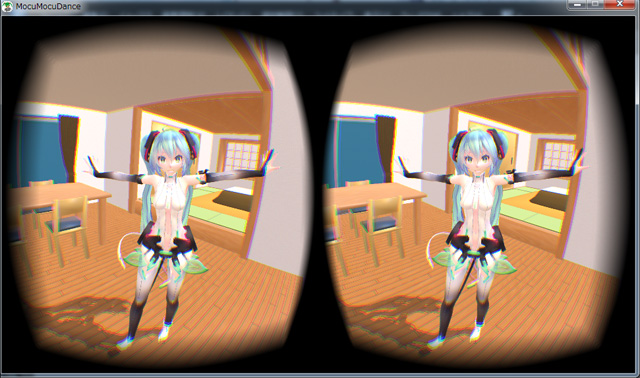 # Description
"MocuMocuDance" is an application to view MikuMikuDance(MMD) models and motions by Oculus Rift or HTC Vive (Steam VR).
When you load a motion file, if sound file is exist, it plays the sound concurrently.
I've forked new VR app MocuMocuVRM from MocuMocuDance.
# Download site
Features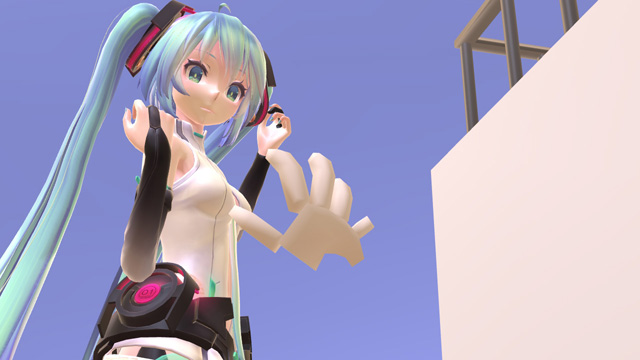 If you use LeapMotion, you can touch characters.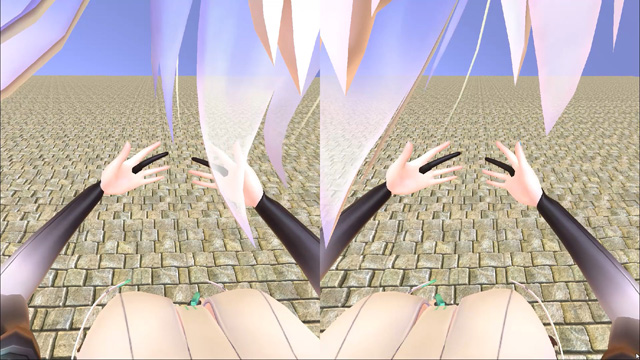 You can enjoy to load a character on my position. Also, you can move character hands by LeapMotion.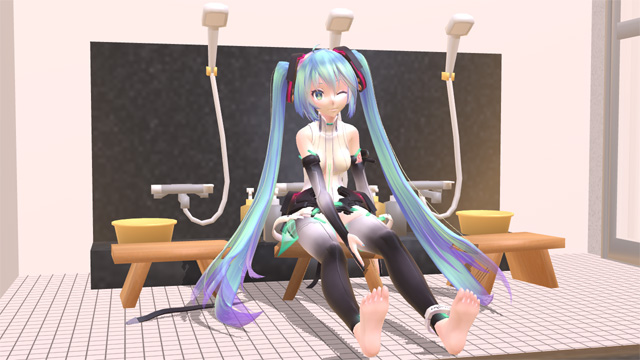 You can pose characters.
You can see HTC Vive front camera view.
Features

MMD model loading
MMD motion loading
MMD character look at me
Character voice play
3D Sound
Play BGM
Character bone setting
Character morph setting
Player character loading
Oculus Rift
Steam VR (Open VR) HTC Vive
LeapMotion Hand Tracking
Vive Hand Tracking
Joypad
Physically based rendering
MMD rendering
Light scattering
Relief mapping
Shadow
Tone mapping
WaterPlane/Underwater rendering
Mirror rendering
Virtual window view
Physics engine (Bullet)
Fluid physics engine
Scene save/load
ScriptEngine
Speech recognition (Japanese only)
Speech synthesis (Japanese only)
# How to find MMD data
You can find MMD model or motion data following sites.

・VPVP wiki - model data
・VPVP wiki - motiondata
・NikoNikoVideo - mmd model
・Misakiru!


# Data and licences
* Tda-type Hatsune Miku Append Ver1.00

Tda
http://u16hp.blog134.fc2.com/


* MikuMikuDance Masisi's House model data

masisi
http://www10.plala.or.jp/masisi/


* "'Sadistic Love' by Lin" motion data

Natsuki
http://www.nicovideo.jp/watch/sm23828868


* Walk10.vmd motion data

Natsuki
 http://www.nicovideo.jp/user/188926


* Texture

 Texture Labs
 http://texturelabs.org/


* Sphere map texture

 Humus
 http://www.humus.name/

 Creative Commons Attribution 3.0 Unported License
 http://creativecommons.org/licenses/by/3.0/



# Program Licences
* Bullet

http://bulletphysics.org/


* OpenJTalk

http://open-jtalk.sourceforge.net/


* Julius

http://open-jtalk.sourceforge.net/


* MeCab, IPA dictionary

http://taku910.github.io/mecab/


* MMDAgent, HTS Voice "Mei"

http://www.mmdagent.jp/


* OpenSubdiv, Copyright 2013 Pixar

http://www.pixar.com/


* VIVE Hand Tracking SDK

https://developer.vive.com/resources/knowledgebase/vive-hand-tracking-sdk/


* FLAC

https://xiph.org/flac/
Copyright (C) 2000-2009 Josh Coalson
Copyright (C) 2011-2016 Xiph.Org Foundation



# Licences
この実行ファイルのアイコンや上記画像はピアプロ・キャラクター・ライセンスに基づいてクリプトン・フューチャー・メディア株式会社のキャラクター「初音ミク」を描いたものです。

http://piapro.jp/license/pcl/summary